Vernix
Vernix Ŕ il re dei Green Goblin che si trova vicino al suo trono dell'accampamento dei Green Goblin a nord ovest dell'Underworld, dispone di due quest.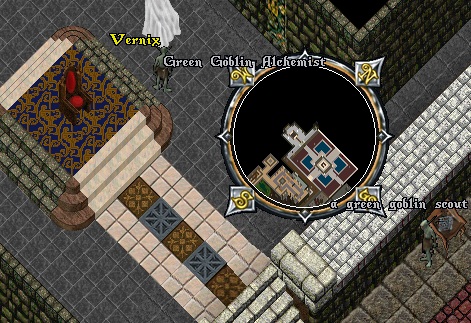 Untangling the Web
La quest richiede l'uccisione di 12 Acid Creatures, Acid Slugs e Acid Elementals (si possono uccidere sia Acid Slugs che Acid Elemental per completarla). Alla consegna della quest Vernix darÓ come reward un Acid Popper, item molto utile per sfuggire alle ragnatele di Navrey Night-Eyes.
Green with Envy
La quest richiede di recuperare un Eye of Navrey Night-Eyes, sarÓ possibile riceverlo direttamente nel backpack uccidendo Navrey se si ha la quest Green with Envy attiva.
Come reward si riceverÓ una large bag of treasure.
Online Now
17 anonymous
Visits:
42923027